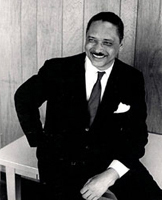 At OIC International, we dedicate ourselves to the mission set out by our founder, the late civil rights leader Reverend Dr. Leon H. Sullivan. Opportunities Industrialization Centers International, or OIC International, was founded in 1970 in response to requests for Reverend Sullivan's assistance from local citizen groups in Nigeria, Ghana and Ethiopia. Working towards Reverend Sullivan's vision of self-help and self-reliance, OIC International's affiliate network has spread around the globe, establishing community-based, affiliate organizations in over twenty countries over a span of four decades.
As our network has expanded, so too has our programmatic scope. OIC International's first programs in Nigeria, Ghana and Ethiopia (1970-1973) focused on vocational training for urban-based, vulnerable populations. As we have expanded, our emphasis on local community has allowed us to tailor our programs to meet the needs of the communities and individuals we serve. Starting in the mid-1970s, we began to focus on rural, vulnerable populations, introducing our first agricultural training programs in Togo (1976) and the Gambia (1978). Recognizing that vocational training alone would not guarantee successful employment, we introduced courses in business management and opened entrepreneurship programs in Sierra Leone (1977) and Lesotho (1977).
Today, many of our network members have been in operation for over 20-30 years, and continue to serve their local communities with innovative programs in sectors such as: Technical and Vocational Training; Business Entrepreneurship and Development; Food Security and Agriculture; Maternal Childcare, Health and Nutrition; Development Finance and Post-Conflict Rehabilitation.
OIC International shares ties with its sister organizations, such as OIC of America, the International Foundation for Education and Self-Help (IFESH) and the Leon H. Sullivan Foundation, all of which were founded by Reverend Sullivan. With a shared history and philosophy, these organizations are united in their mission to further the goals of justice, development and hope to which Reverend Sullivan devoted his life.